Records
Records are the complete and unchangeable evidence of what an organization does in its business activities and transactions. They can be in the form of paper, scanned images, electronic message, drawings or in any other form.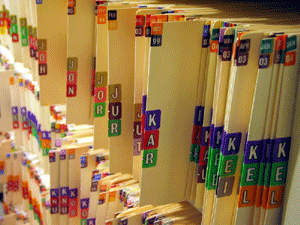 Records are an integral part of an organization and hold value for it as an important information asset and are critical for the continuity of business operations. Records must be created, organized, secured, maintained and used in a way that effectively supports the activity of an organization as they facilitate and sustain day to day operations. They are needed for budgeting and planning, provide answers for past decisions and activities; they demonstrate and document compliance with applicable laws, regulations and standards.
Importance of Records:
Perform daily business transaction
Deliver goods and services consistently
Comply with legislative and regulatory requirements
Manage risk
Protect the interest of all stakeholders
Provide research documents for the development of products and services
Preserve the organizational identity and history
Records is the centre of everything an organization does, hence, how the organization manages those records can directly affect its ability to compete, comply with regulations, recover from disaster- in other words, to operate efficiently.
History
The need for a proper records management has been felt since the day man started scripting. He used various means to protect the records he created. Many manuscripts have been passed on for generations, preserved by using various indigenous methods, many of these manuscripts have been lost due to nature's fury, wars, termites, other insects, ageing, water seepages, fire, personal rivalry, theft, lack of knowledge etc.
Post Renaissance, with the invention of printing press, the growth in intellectualism, the large number of scientific inventions and discoveries, the paper records started getting created in large numbers. As the usage and demand for these increased, the need for managing them too was felt, this led to the advent of library science. Till the end of world war too this science was followed the world over by large companies to manage their records.
The first modern day Records Management Centre was "Business Archives Centre" which came up in the US in 1948. Post that, records management companies have mushroomed across the USA. Today the industry size in USA alone is over 500 million cu ft; another 500 million cu ft is still un-captured!
Importance
Life Cycle of a Record
Declare
Create
Checking
Audit
Active storage
Manage access
Preserve
Inactive storage
Facilitate quick retrieval
Audit
Un-create
Types of records
Physical paper files
Drawings and Blueprints
Computer media
X-rays/MRI and CT Scans
Document Shredding
Steps taken to eliminate your documents after their lifecycle on an ongoing basis
At the end of the lifecycle of particular records, we would, after getting a confirmation from the organization destroy them in an environment friendly and secured way maintaining the confidentiality to the very end. We will be using high end shredders which will turn the paper into fine confetti. We also understand our Environmental responsibility, and ensure that all the shreds are recycled into paper again. Every three cubic feet of paper will help us save a tree worldwide!