Digitization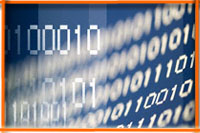 We provide electronic document management solutions which include document imaging services i.e. scanning of physical files and a wide range of document conversion services including PDF, TIFF or JPG conversion, full OCR correction and OCR scanning services. All this is done as per the needs and requirements of the customer and ensuring the best resolution images and error free indexing.
We also provide basic and advanced document preparation services, complete quality control which includes image inspection and cleaning up. We provide the scanning services both off-site as well as on-site.
Digitization process includes database design, the customized eDMS software which helps retrieving the images easily and sophisticated indexing schemes which helps in the interfacing of the scanned and indexed documents with most of the software.
We provide special solutions for the Medical records and have an expertise in scanning the X-ray and MRI reports thus making available the entire case history of a patient at just a click of the button.
We scan papers of all sizes and even books. For a free quote, please do write to us with details of the age and type of paper to be scanned, size (legal, letter, A4, A0 etc) and quantity and also the output format (TIFF, JPG, JPG etc, OCR, colour, grayscale or bi-tonal images) as well as the quality required (75 dpi, 150 dpi etc). We would also like to know the quality of the paper (thin, thick, status of pins and staples in the documents etc). The scanning is to be done on-site or off-site. All this information will help us give you the right quote.
Advantages of Digitization
Automatically creates the backup of paper file
Saves the paper files from over exposure hence increasing their life
Allows multiple users to access the same document any time
Secures sensitive documents from unauthorized access
Reclaim valuable office space
Increases productivity
Improves responsiveness to clients
Eliminates the chaos of lost files
Access documents instantly and easily
Process Flow for Digitization
Document Preparation:

Staple and pin removal
Repairing torn documents
Straightening the folded documents
Rotation of documents to one orientation
Placing documents into a consistent sequencing

Scanning/Indexing:

Scan the documents
Index the documents as per client's requirements
Grouping the scanned images
>Renaming the images

Post scan process

Quality Control
Dual checking of images with the documents
Re-stapling the documents
Ready for storage
Incorporate the images into the eDMS software (if needed)