What is Records Management ?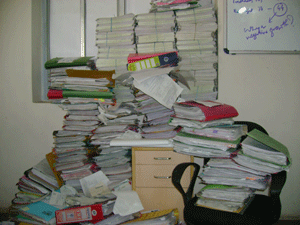 The process by which a Company manages all the elements of records whether externally or internally generated and in any format or media type, from their inception/ receipt, all the way through to their disposal.
With increase in business the volume of paper records is growing exponentially across the industries and hence the need to manage, share, retain and preserve the same as per the law. And you have to allocate additional space, additional manpower to manage the same. And this is where we pitch in. You may see records management solely as an overhead cost, we request you to look at it as an information that can mitigate risk and drive ROI.
Outsourcing of records will help you free up a lot of much needed space at many of your prime locations. It will help you streamline your processes, reduce costs substantially and most importantly improve customer satisfaction.
Certainly offices won't become paperless but we will help you make them less paper offices.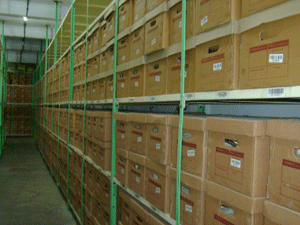 We will not merely store your records but manage them scientifically throughout their lifecycle in our state of art warehouse.
Why Records Management?
Records Management
The efficient and systematic control of records throughout their lifecycle i.e from creation, classification, use, audit, archiving, preserving and un-creating, is Records Management
Why Records Management?
Records are an integral part of an organization and holds big value
To maintain privacy
Protection of data
Maintain regulatory and legal compliance
Meet space demands
Mitigate risk
Records retention policy
Setting and following organizational policies and best practices
Creating, communicating and executing procedures consistently
Corporate accountability
Records Management Consultancy
Records Management Consultancy
Need Analysis

Study current situation including the types of documents used and how they are organized
Current media in use (paper or electronic) and quantity
Current RIM policies and procedures
Current regulations
Space utilizations
Needs of the employees

Classification

Creating proper classification and indexing of various record types

Schedules

Our recommendations will help you sort out the documents as per the requirement
The documents which have outlived their age will be taken out for shredding
Help you reduce the storage space requirement
Follow legally acceptable practices for records retention and minimize exposure to litigation

Policies

Will help you lay down proper policies and procedures for records management

Workflow

Current business processes will be analyzed to document the movement of records, based on that we will recommend ways to optimize workflow.
What the clients would like to get ?
What the clients would like to get ?
Facility:
Providing a safe facility is our first priority, this includes security in terms of human guards, security against fire, security against pests and termites, security against floods and seepages and other environmental controls and occupational health and safety standards.
Service:
We assure you of very high level of personalized services. You will always get courteous and timely responses. Turnaround time as per the service level agreement would be followed. Our staff would be trained to provide you the best services.
Price:
You will never have to worry about the pricing, it will be the best coupled with the best services.
Technology:
We are using the best technology in the World for Records Management. This technology is being used by over 90% of records Management companies around the world.
Confidentiality:
We are signing confidentiality agreement with the staff, only trusted and authorized staff is allowed access to records that too only when it is required. We will ensure that an organization's confidential information is secure against any intrusion.
We believe in providing the right information to the right person at the right time at the lowest possible cost.
"We ensure integrity, transparency and accountability in Records Management".
Our Business Principals
Integrity
Ethics
Honesty
Client interest
Services
Customer Relationship management
Retaining the Best people
Adherence to the standards
Advantages of Records Management
Advantages of Records Management
Long term Asset management
Public Image
Better Services
Process and Business Analysis
Utilization of physical space
Better regulatory compliance
Disaster planning

We believe in the saying "Prevention is better than cure"
Data with the highest exposure risk should be encrypted
Develop solutions to ensure information security, regulatory compliance and disaster recovery
A detailed service agreement identifying roles and responsibilities
Setting up detailed processes followed by strict audit checks

Risk Management
TQA audit
Financial audit
Better Legal Compliance
Right to Information (RTI) Act
Data Protection
Legal Liability