Welcome To Archive - Records Management Services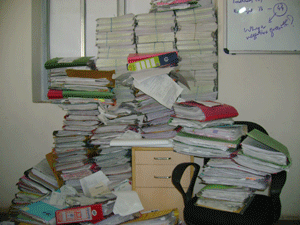 Archive Records Management Services was launched with an aim to provide quality records management services and to create satisfied customers. The goal was to provide a quality product at competitive prices topped with quality services. Archive wants to be the differentiator on account of services in this industry. We currently have warehouse at Ahmedabad and have started a representative office at Jaipur . And aslo intend to start a warehouse at Jodhpur and Indore very soon. We are also open to set up a warehouse at any other location as per the client requirements. Because We Aim ...More »»
What is Records Management ?
The process by which a Company manages all the elements of records whether externally or internally generated and in any format or media type, from their inception/ receipt, all the way through to their disposal.
With increase in business the volume of paper records is growing exponentially across the industries and hence the need to manage, share, retain and preserve the same as per the law. And you have to allocate additional space, additional manpower to manage the same. And this is where we pitch in. You may see records management solely as an overhead cost, we request you to look at it as an information that can mitigate risk and drive ROI.
Outsourcing of records will help you free up a lot of much needed space at many of your prime locations. It will help you streamline your processes, reduce costs substantially and most importantly improve customer satisfaction. More »»